McVittie's Gingernuts
From Sainsbury's. I mainly got these to compare to the Griffin's Gingernuts Julie has sent me. These were good, but I prefer Griffin's hands-down. But it's basically the same thing. Very hard ginger snaps.
Griffin's Lemon Treats
From Julie. Oh. Oh, oh, oh. A new favorite here. These are so, so good. They're
crackers
with lemon filling. The cracker is sort of like a Ritz, but not really. It's got a definite salty flavor to it, though, and then yummy lemon cream filling. I don't think Griffin's has steered me wrong yet.
Arnott's Lemon Cheesecake Dessert Creams
From Julie. These are yummy. I've had shortbread cookies with cream filling and dabs of jam before; I think Pepperidge Farm has some. These were good, but not as high on my list as the Lemon Treats.
Arnott's Classic Dark Tim Tam
From Julie. I think these are my least favorite Tim Tams so far, but still very delicious. Not really too much to say about them except that they're dark chocolate. Despite the heat wave we're having, they were not melted.
Turkish Delight

ozille
sent me these from Australia. Authentic Turkish Delight. The powdered sugar made them a horrible mess to eat, but omg so good. They were much stronger rose-flavored than the chocolate-covered kind, and a lot gummier, too. They also had chunks of almonds in. I would have prefered more almonds, actually, as it offset the rose taste really well. Almond-less bites were noticeably less tasty than those with.
Maynard's Wine Gums
From Sainsbury's. Someone asked me when I reviewed the Maynard's Midget Gems if they were like Wine Gums. The answer is no, they're not. The Midget Gems are hard little buggers, whereas these were much chewier. They've not got wine in them, nor are they wine-flavored, so I don't know where the name comes from. They have what seems to be the standard flavors for this sort of thing: lime, black currant, lemon, strawberry, and orange. Very tasty, especially the black currant.
Rowntrees Fruit Gums
From Sainsbury's. These are more like the Midget Gems, though a different shape, and they come in a roll rather than a bag. I didn't like them as much, though, honestly. I wouldn't get them again at this price ($1.30, I think). Flavors were the same as the Wine Gums.
Rowntrees Fruit Pastilles
From Sainsbury's. These, though, I did like. Same flavors again, but they're coated in sugar. It's not sour sugar, either, just plain sugar. Nice and chewy.
Nestle Lion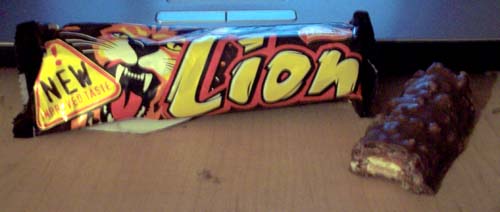 From Sainsbury's. I only had a bite of this as it was mainly for Bruce. He wanted to try it after reading the
review on Candyblog
. It's got cream-filled wafers, rice crispies, caramel, and chocolate. A big too much going on for me, but still pretty tasty.
Cadbury Double Decker
From Sainsbury's. Now this I really liked. It had chocolate, chewy "nougatine", and rice crispies. The bad thing is it was so long ago I tasted this, I can't really remember what the nougatine tasted like. All I know is it wasn't what I was expecting as nougat...
Cadbury Buzz
From Julie. These are very similar to the Pinky bar, though the marshmallow is not pink. It's just marshmallow and caramel coated in chocolate. Tasty, but now wow.
Europe Summer Roll
From Julie. I loved this so much I ate it all right away. Peanuts and nougat covered in chocolate and coconut. The coconut was so messy (as you can see in the photo), but omg so good. The peanuts were pretty subtle, too. I got a peanut flavor, but it didn't feel like there were a whole lot of big chunks.
Reese's Double Chocolate
From Target. This was pretty tasty. At first I was like uh...wtf? Cause isn't Reese's all about the peanut butter? But this actually does have peanut butter; it's just a chocolatey flavored peanut butter. I still like the original best, though.
Reese's with Caramel
From Target. This one was kind of icky. It was a basic Reese's with a layer of caramel. The two didn't go well together, IMO.
100 Grand with Peanuts
From Target. Another bad combination. It's kind of like they mated a 100 Grand with a PayDay. Basically it's your usual 100 Grand, which is caramel, rice crispies, and chocolate, only they've stuffed it full of peanuts, too. It just felt like the worst of both worlds to me. I love original 100 Grand, though.
KitKat Milkshake
From Target. Who would have thought I'd like a malt-flavored KitKat? I don't even like malt! But this was delicious. Bruce bought some more from Sav-On the other day, too, 3 for $1.
KitKat Tsubutsubu Ichigo
From Mitsuwa. Tsubutsubu Ichigo basically means chunky strawberry. It's got little strawberry bits in the coating. This has a really good strawberry flavor. I like it a lot, and would buy more if they weren't so damned expensive (I think $2ish each).
KitKat Strawberries and Cream
From Julie. I think she got this at the Brit store there, cause it's obviously from England. Nowhere near as good as the Japanese strawberry one, honestly. It tasted more white chocolatey than strawberry, which ruined it for me.
---