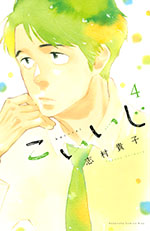 Title:
Koi-iji: Love Glutton
Original Title:
こいいじ (Koiiji)
Author:
Shimura Takako
Publisher:
Kiss
Genre:
Josei
Status in Japan:
6 volumes, ongoing
Scanlator:
Megchan's Scanlations
feat. Migeru
Scanlation Status:
Ongoing
More Info:
Baka Updates
Summary:
31-year-old Mame has been in love with her childhood friend Souta ever since she can remember. Despite multiple rejections, her love has stayed constant. It's become a habit more than anything, but is it one she'll ever be able to break and get on with her life?
Chapter Summary:
Mame and Souta go on a date.
Chapter 20: P.S. I Love You
And since that brings us to the end of volume 4, here's a
full volume download
for those who want it.