kakeochi_umai
yesterday (thank you!) and omg, this is like, the best selection ever. Everything is fruity, even the chocolate stuff. I love fruit candy so, so much. I like non-chocolate fruit candy best, but chocolate with fruit flavor is a close second.
This isn't the first banana Pocky I've had. In fact, I think it's the third or fourth. This is
Dessert Pocky: Banana Chocolate Tart Style
. The Dessert Pocky has a really thick chocolate coating with swirly lines over it. In exchange for having more chocolate, it comes with fewer in the box. When I first saw the box, I thought it was going to be lemon or lime, as it's kind of a greenish yellow, but alas. I do like the banana, though. Quite tasty.
This one is
Dessert Pocky: Fragrant Orange Double Chocolate
. I'm sure I've had orange Pocky before, too, but none as good as this, I don't think. It tastes like a cookie stick dipped in a Terry's chocolate orange.
Of course it wouldn't be a candy review without
KitKat
. Yes, Japan has come out with yet another limited edition flavor. I swear there's like a new one every week. These are more of the minis, and perhaps my favorite mini flavor yet, blueberry. Plus! It's actually chocolate with blueberry, rather than white chocolate dyed purple or something.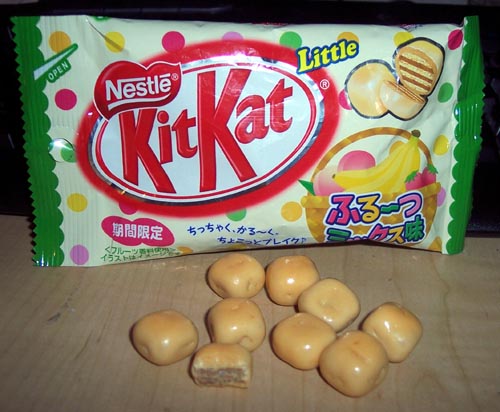 But even better were the
KitKat Little: Fruits Mix Flavor
. These are itty bitty bite-sized KitKats. The coating is white chocolate, but the mixed fruit flavor is so delicious, I don't even care. From the looks of things, it's peach, banana, and strawberry in the mix (not separately, but all mixed into one flavor), but I could really only taste a sort of peachy banana. I think they have these KitKat bites in the US, or at least did for a while, along with bite-sized ones of other Hershey's candy bars, but of course they were just regular flavor, not anything special.
This is
Lotte Rich Fruit Chocolate
. It's a white chocolate bar with peach flavoring. Mmm...so good! Like with the KitKat Littles, the fruit flavor is so tasty I don't even mind the white chocolate.
Then we have the
Hi-Chew
. I decided to photograph them all together, so from left to right, it's American Cherry, Mixed Fruit, and Golden Pineapple. I'm pretty sure I've had the cherry before, but I guess I never reviewed it. Well, all three are delicious, but I think the mixed fruit is my favorite. It appears to be a mix of peach, pineapple, banana, and grape, but like the KitKat Littles, I just taste mostly a peachy banana. Also Bruce pointed out that the American Cherry writing looks a lot like the font on the American Idol logo.
I was thrilled to get some Japanese flavors of
Mentos
, Ume and Banana 'n' Cream, but unfortunately I really didn't like either! This is a sad, sad day. Have I ever disliked a banana candy before!? But for some reason it doesn't go well with Mentos, I don't know. It's not "won't eat it" bad, but it was definitely disappointing. The ume (Japanese plum) is very tart and I didn't like it at all, but Bruce did, so more for him.
---